Welcome to Our Featured Artist
Let's show Karen how much she means to our team by stopping by her shops to browse, promote, and make her feel special! She has some lovely items and is working hard running 2 great shops.
Karen is offering a give away! Visit one of her shops and leave a comment here with about a favorite item or something you like about her shop! Winner will be chosen by random.org next week.
Give Away: Spring Flower Gift Tags – Set of 4
Tell us a little about you Karen:
I am a stay at home, homeschool mom. My husband is a State Trooper and we have three children. Two have graduated and are sophomores in college. Our youngest is Holly. She is in 8th grade. I have enjoyed dabbling in crafts for many years. My girls and I have collected quite a stash of scrapbooking supplies.
How did you get your start on Etsy?
With two kids in college I need to help supplement our income but my husband's schedule makes it difficult to work outside the home and continue homeschooling. I was encouraged by a friend at church to consider making and selling something on Etsy. I was also inspired by the prophet Elisha in 2 Kings 4. He asked the widow who was in great need of making some money, "What do you have in the house?" So I am taking my craft stash and my love of scrapbooking and hope to make something that others will enjoy and be able to use in their homes.
How did you choose your shop name?
Ellie Marie is a combination of my two daughters' middle names and nicknames.
What does a typical day look like for you?
I don't know that I have a typical day. Most week days you will find me doing homeschool with my youngest and only child still at home. Of course there is housework, dinner and I try to squeeze in working on different projects for my shop. Holly is involved in some homeschool classes outside the home so several days of the week I am taking her to those. Because my husband works different shifts, some days he's off in the middle of the week doing different things around the house, sometimes he's sleeping because he's worked all night and we have to be a bit quieter. Good thing there's just the two of us now!
If you could be anywhere in the world for one day, where would it be?
Constanta, Romania. We were missionaries to Romania for 10 years and have some very dear friends there. One day wouldn't be enough time but I would take it.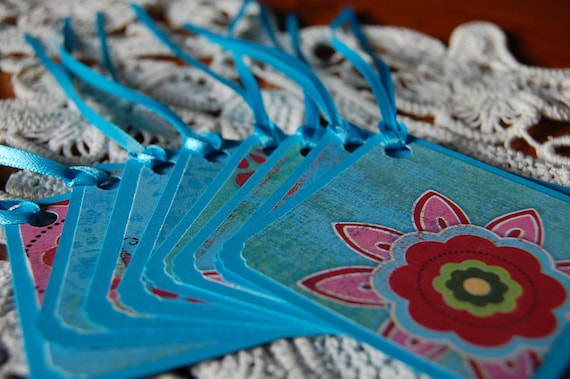 What is your favorite Bible verse?
"Now unto him that is able to do exceeding abundantly above all that we ask or think, according to the power that worketh in us," Ephesians 3:20
What is your favorite Etsy item listing to feature?
I really enjoy making gift tags.
URLs to where else we can find you on the internet: