Nancy is such a multi talented lady. Not only does she sew, but we are going to show you her gorgeous stained glass creations from one of her two shops here on Etsy.
Tell us a little about yourself Nancy:
I am a mom of two grown kids and have been married for 34 years.
I have been sewing, crafting, and knitting since I was a little girl. I started taking stained glass classes 10 years ago and was immediately hooked. It is so much fun. I have always been intrigued with the beautiful windows in our church and other churches that I have visited in the past. My style of stained glass windows are a bit different from the ones you may be used to seeing in your church. I do not use the leaded style, I use the tiffany style which is copper foil method and they are for more ornamental and decoration then for an actual window replacement.


Once I started making stained glass items I made many for my home, gave lots away to family and friends as gifts, and donated a few things to my church and other organizations. Five years ago both of our children moved out within a few months of each other and being an empty nest er I needed something else - another outlet - but I didn't really know what it was that I was looking for. I started selling my glass at local art galleries, then consignment shops. My daughter told me about Etsy and I said I would give it a try. I am so thankful I did.
How did you come up with your shop name?
I wanted my shop name to say exactly what it is I do. I do make many of my own designs and patterns for my panels and sun catchers. I tried to think of a more creative title to my shop but decided on this one - tells the customer exactly what they can expect to find in my shop.
What does a typical day look like for you?
My typical day - get up early, do a few house hold chores, go to work, ( my husband and I own our own small business. I work in the office and he is in the shop). When I get home I then can work on my stained glass or projects for my other Etsy shop, Nancy's Bags etc. Between my "real" job, 2 Etsy shops, our new lovely home, my gardens, 2 cats, my kids coming home to visit, my family and friends, and all my other crafty things I like to do - I am always busy, never a dull moment.
What is your favorite bible verse?
There are many but I do love this one:
Commit to the LORD whatever you do, and your plans will succeed."
Proverbs 16:3
What is your favorite thing to list in your shop?
I love dragonflies - one of my favorites in my shop at the moment is this one: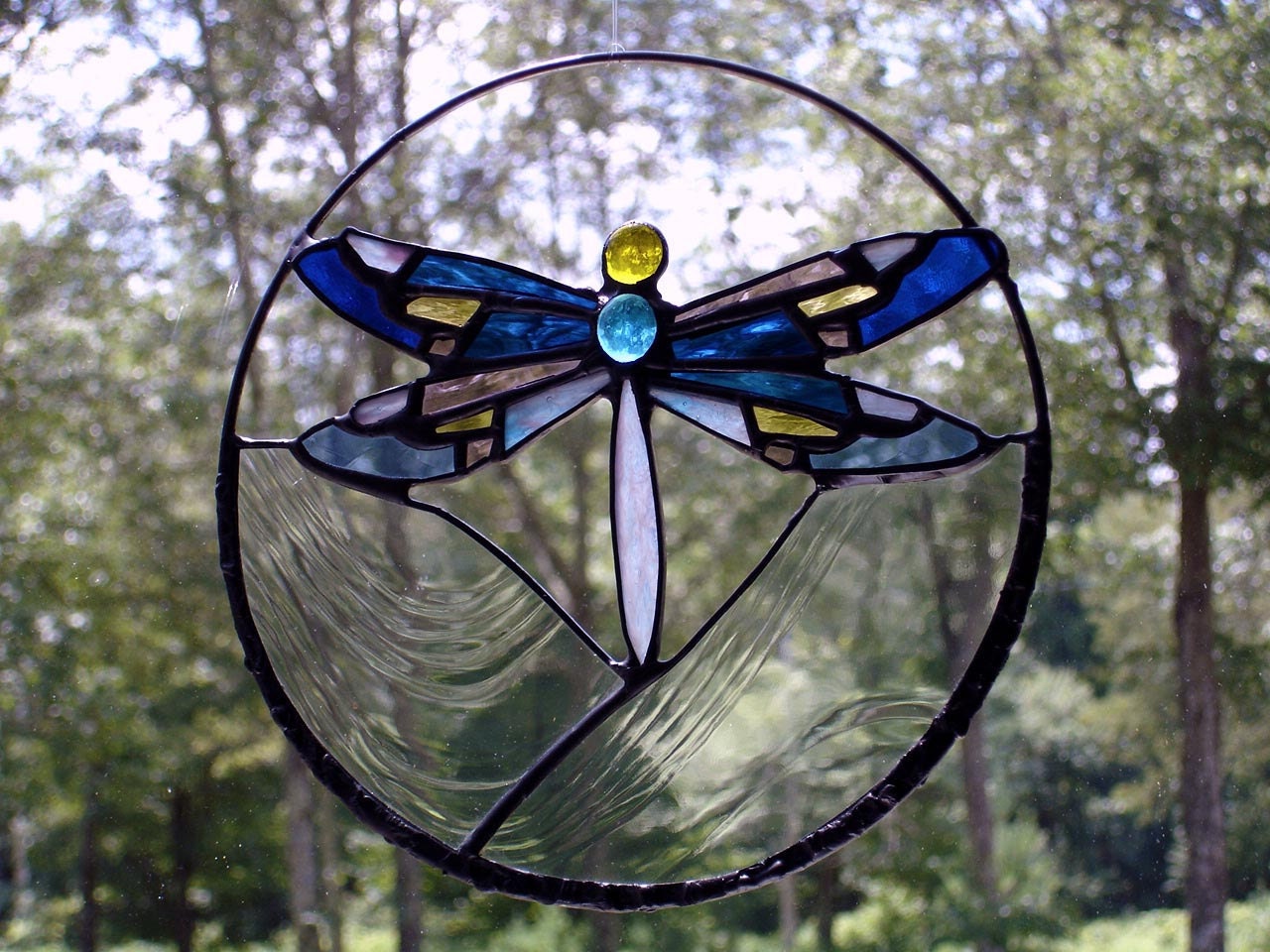 Nancy has offered a very generous giveaway of one of her small angel sun catchers. Pick something from this shop section if you win. To enter, visit Nancy's shop and leave a comment here about a favorite item.
Where can we find you on the Internet?
My shop:
http://www.etsy.com/shop/DesignsStainedGlass


You can also find me on face book:
http://www.facebook.com/stndglassdesigns


Twitter:

http://twitter.com/stndglass


And my other Etsy shop:
http://www.etsy.com/shop/NancysBagsEtc
Thanks so much Nancy for letting us get to know you better!


And the winner of last weeks giveaway, a choice of any of AronaDesigns illustrations, is Melanie of ForeverCherishDesigns! Lizzi will be in contact with you. Congrats!!