We would like to welcome Mary Jane from Janey Laughs to our Wednesday featured artist post!
Mary, tell us about yourself!
My Name is 'Mary Jane (Janey) Gust. My Shop name is Janey Laughs. I chose my shop name "Janey Laughs" because I enjoy laughing, and seeing the funny side of life.
I was made fun of often in my life for it, but just can't help myself! LOL. My interest in creating dolls, dresses...etc. came at a young age of 6 or 7 years old. My mother bought me a toy sewing machine that actually worked somewhat, and I spent hours with that machine, along with many other artful interests.
Married at a young age and raising 3 girls and 3 boys, I used my sewing talents to make them stuffed toys and many outfits.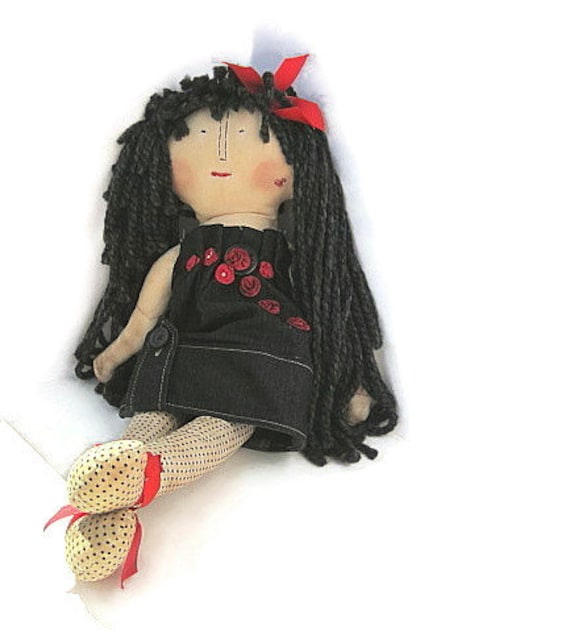 Often people would tell me I should sell my items, so after retiring I sew when I find time, as this is my fun hobby. I create most my own patterns for dresses and dolls.
A typical day for me is enjoying an early cup of coffee with my precious Husband, and we read scriptures and pray together every morning, then he heads off to work, and I start my day first tending my huge flower garden of which is one of my many first loves:)
The day goes way too fast, and I have to have my list of priorities, but sometimes i ignore that list and just sit in my sewing room and stuff my dolls, sew those cute little dresses!
*If I could be anywhere in the world for ONE day I would choose to take a walk with my Hubby in the'' Luxembourg Gardens in Paris. We both have relatives in France, so we'd stop over there quick for some good restaurant experiences with them also!
My Favorite verse is Proverbs 31:25 "She is clothed with strength and dignity,
My favorite Etsy item listed is Peppermint Patty doll...She just has that huge smile! with rosy cheeks. I love them all, but Patty is special.
Thank you for sharing your shop and creative process with us. Where else can we find you online?
Please visit Janey's amazing shop and take a look around. Comments are always welcomed and appreciated!