A great big welcome to Hallie Franco of the shop Hallie Johanna! Hallie has been kind enough to offer a giveaway to one lucky reader (details at the end.)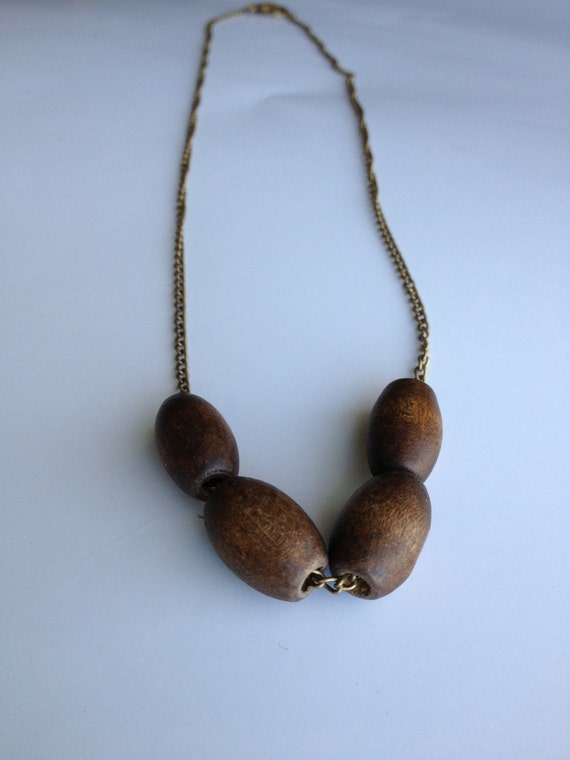 Vintage Wooden Bead and Antique Bronze Chain Necklace
First let's find out more about Hallie!
My name is Hallie Franco
My shop, Hallie Johanna
-A little about me:
I am a new mommy with a passion for crafting! My son Ben, my two kitties, and my pup will always remain my little muses. I thank my own mom for fostering the creative side of me. It took me a while before I realized that I took great pleasure in unwinding through a good craft project. Now that I have harnessed my ideas, materials, passion, and true joy for making new friends through a great product made with love, I am never happier!
My start on etsy began with a great deal of people I know asking me to make them some of the crafty things that I was making for myself. I discovered etsy almost by accident, and I didn't know it could really be THAT easy to use my passion for crafting! I thought: why could I not bless people with a unique selection of products not available in stores, while enjoying what I love to do!
My shop name is my first and middle name. I wanted to use my own name for the name of my shop to show people that the products I make are 100% ME. I put all of my efforts and creativity into each and every product I create, and would like everyone to know as much!
A typical day for me usually involves babysitting (I care for the children of two families professionally, and one of my friends babies on alternating days), spending time with my own family, crafting, and trying out new DIY projects for myself and my sister, whoever is willing to be my "prototyper"!
My favorite place in the whole world is Maui. I love to be there with my family to relax and unwind from a crazy life. There is no place I'd rather be than on Maui with all of my family and friends.
A bible verse that I have always felt spoke to me when I truly need it is Philippians 4:13 - I can do everything through Christ who strengthens me. I even used this verse in the listing for my writable mini chalkboards!
I love featuring
THIS beauty, one among a collection of about 6. I made one of these necklaces for myself, and could not stop. In love with it!
www.etsy.com/listing/125497044/large-icy-raw-rock-crystal-statement?ref=...
You can find me
on facebook, twitter, and blogspot
www.facebook.com/HallieJohanna
www.twitter.com/HallieJohanna
www.HallieJohanna.blogspot.com
Thank you Hallie! Now, for the details of the giveaway. To win the beautiful wooden bead necklace pictured at the top of this feature, go to Hallie's shop, pick your favorite item and hop back here to tell us what it is. Simply commenting won't get you entered! Our winner will be chosen using random.org.
Come back next week to see who won, and read meet our next featured artist!