It's Wednesday again, and time for our featured artist post! This week we welcome Shannon Nestelberger from the shop
Eternitee
on etsy.
Shannon has been kind enough to offer a giveaway of her "Be still and know" print (pictured below) from her lovely shop. To enter, please visit her
shop
, pick your favorite item, and then come and let us know what it is in the comments section! Please remember, regular comments don't count. One entry per person please!
Introduction:
Hi, I'm Shannon and I am honored and humbled to be asked to be a Featured Artist of the Week. I have been hand-crafting things for as long as I can remember. I love to paint and crochet and do a little bit of sewing. All of my creative efforts are therapeutic and draw me closer to God. He allows me to be inspired in all kinds of different ways. His creation is vast and He has the best imagination: sunrises, sunsets,flowers, nature, and His kids.
I live in Las Vegas with my miraculous and incredible husband of 31 years. We have 2 adult sons and 2adult daughters. They all have their unique and awesome personalities and they each know where their blessings come from. We are also fortunate to have a wonderful and faith-filled daughter-in-law and 2 beautiful grandkids. Life is good.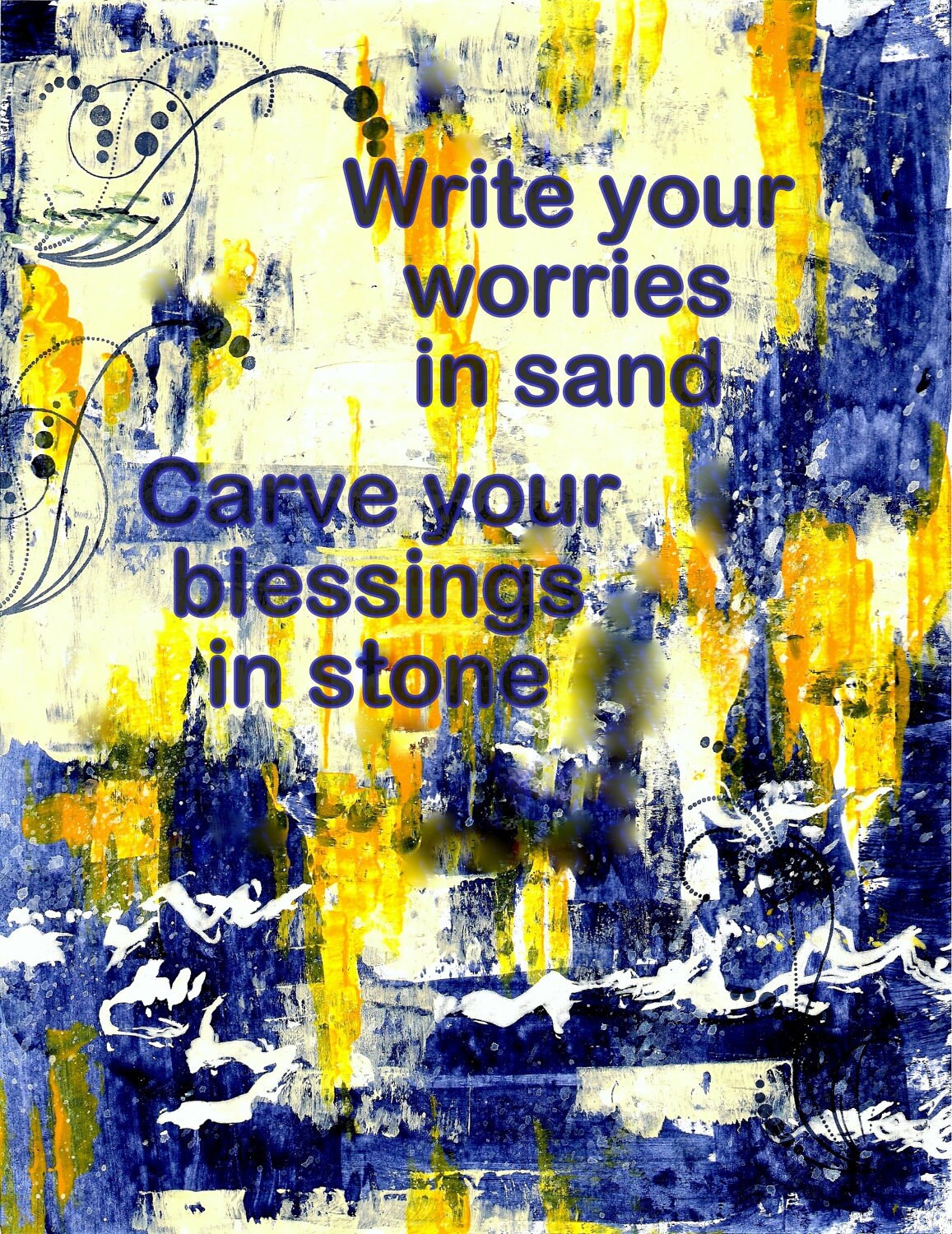 How did you get your start on Etsy?
My daughters told me about Etsy afew years ago and suggested I try it. It has been a slow, but steady process.It was thrilling to sell my first item and still excites me each time I do. Ithas been a great encouragement in my life.
How did you choose your shop name?
My shop name comes from the word "eternity". I was initially selling painted tank tops and T-shirts so I just spelled it with the "tee" on the end. Plus it felt like a good fit with my belief in God and looking toward our eternal home. Now, I mainly focus on inspirational sayings: bible verses, prayers, quotes or song lyrics, etc.
What does a typical day look like for you?
My days are not too typical. I work full-time on the night shift so I can be a bit scattered with my inspirations and time management. Anything can send me running to my studio or the craftstore for supplies: a song, a prayer, another artist's work, a sunset.
When I take the time to create my plaques I go to my craft desk, pull out my brushes, sponges, stencils and whichever paint colors call me and I just start enjoying the process. I think about whichbible verse I will use or which encouraging quote will work and I add that last. I also get custom requests which I work on first. If I am blessed with a sale, I thank God, tell everyone who will listen and then head to the printers. I then apply the print to acanvas board and ship it out.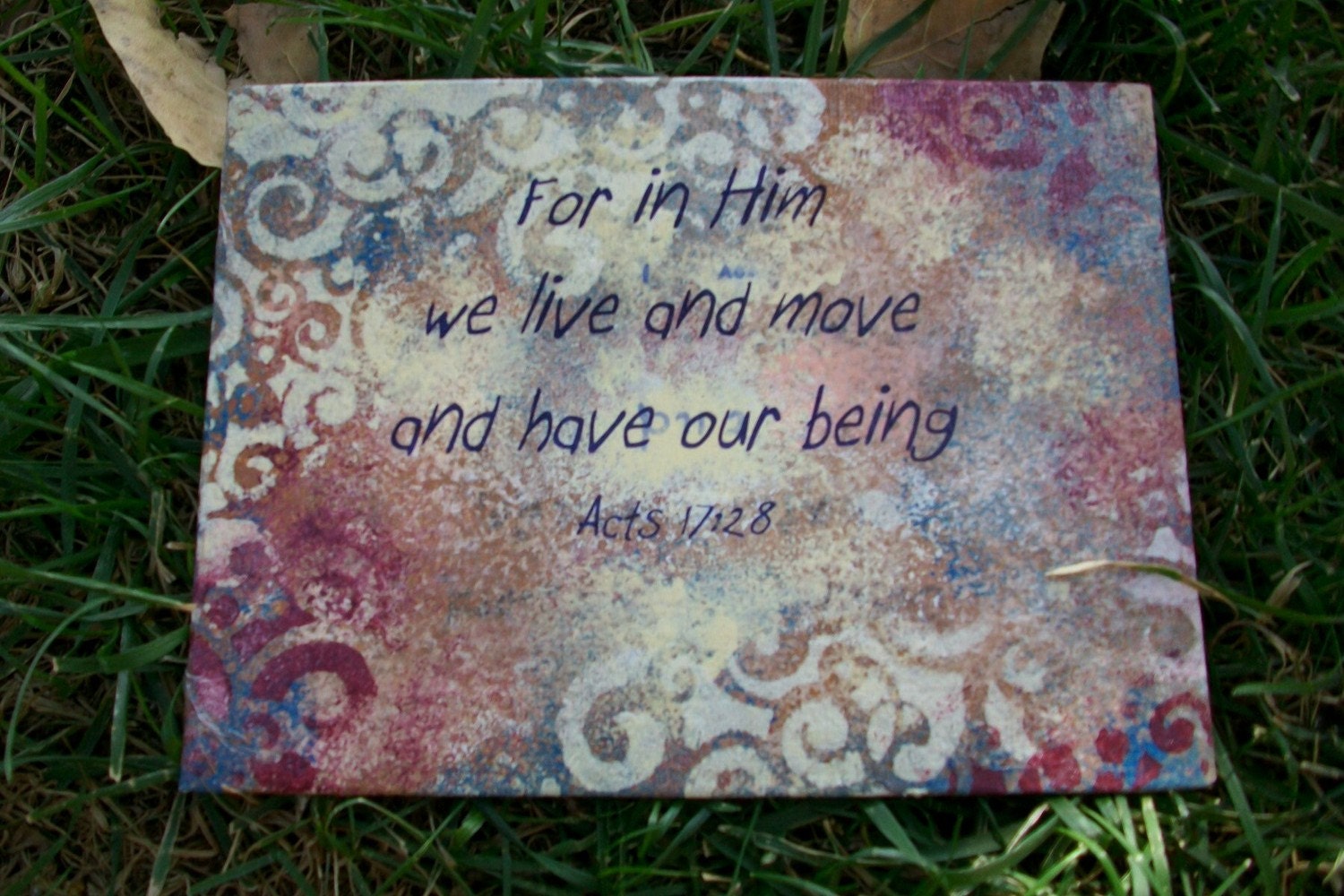 If you could be anywhere in the world for just one day, where would it be?
If I could be anywhere in the world for just one day it would be at my Mom and Dad's house in the Midwest.They are getting older (I guess that means I am, too) and I don't get to see them as often as I'd like. They are amazing parents and I still need them at 50!
What is your favorite bible verse?
My favorite bible verse seems to change all the time, but my steady favorite is Philippians 4:13 "I can do all things through him who gives me strength" My miraculous husband I mentioned earlier is in hospice care for a chronic, terminal heart condition and through God's grace is beating the odds daily. I feel God's strength on a minute by minute basis. I have a tendency to worry and forget that God is in control. The doctors can say what they will,but my husband's life is truly in God's hands. He is a great inspiration to me and those he still helps and serves. And the "peace that passes all understanding" cannot be bought. It is a pricelessgift.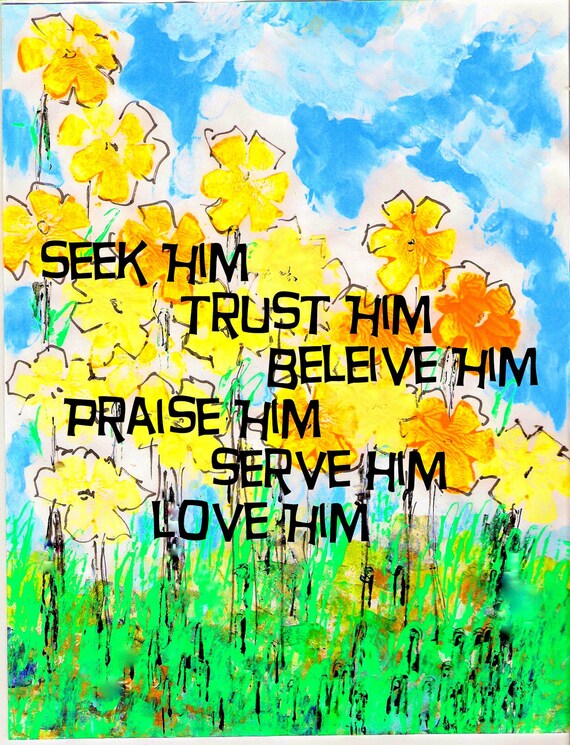 Favorite item listing: Seek, Trust, Believe Him
You can also find me at:
www.eternitee.etsy.com
http://www.facebook.com/pages/Eternitee/274415011784
And the winner of last weeks
Wednesday featured artist
giveaway is Hannah from
Bananaorangeapple
on etsy. Congratulations Hannah! Someone will be contacting you soon!