Stephanie has loved being crafty since she was a child, and loves breathing new life into repurposed textiles. She has a wonderful collection of cup cozies made from old neckties that you can use for coffee, tea, chai, and anything else that takes your fancy. She also has mini quilts and handmade reusable bags.
Please take a moment and visit Stephanie's shop, and give her some love!
Stephanie is hosting a give away!
This Oh So Blue Cup Cuff goes to the lucky winner of Stephanie's giveaway. To be entered to win, please comment on this blog posting with your favorite item in her shop. One person will be announced on next Wednesday's Featured Artist post.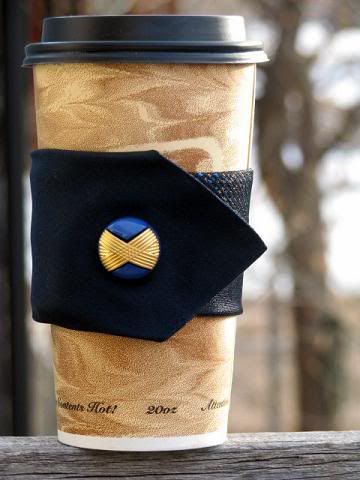 Introduction
I grew up in a small town just south of Tampa, FL but I met and married a Colorado native, Darin, and Fort Collins is where we make our home. We have two fur-babies, Maggie a Lab mix and Penny a Doxie mix, and are praying for God's favor to grant us children. We have a very close knit family and I have developed a very strong bond with my mother-in-law over sewing and crafts. However it was my mom's mom, my Grandma Martha, who instilled in me the love of all things crafty. I have her handiwork, her art, hung throughout my home to keep her close, and to keep me inspired.
I made the first cup cuff for myself, but my mom liked the idea so much she got me some more ties and asked me to make a few more. She is the one who put the bug in my ear that maybe I could sell them. So, after getting laid off I decided to list a couple on Etsy to see if anyone would actually buy them. Then I got the idea to hand make most of our Christmas presents in 2009, and started making a set of reusable pouches for family. When Christmas was over I just couldn't stop making them! I added hand embroidery to the pouches and I was amazed when I had my first sale!
What does a typical day look like for you?
I don't really have a typical day. Darin leaves for work a little before 7, and so I am usually up right after that. Sometimes I wake up and start working on a project in my PJs, sometimes I check in with my online community in the mornings to get myself going. I usually forget to eat till around the time Darin comes home for lunch. But I do lots of different things through out the course of the day. From sewing and crafting, to cooking and baking, cleaning, reading, watching the Create channel to get inspired... I do alot of chatting with Maggie & Penny (they are such attentive listeners!)
If you could be anywhere in the world for one day, where would it be?
Darin & I spent our honeymoon at a resort called Pueblo Bonito in Cabo San Lucas, Mexico and I would love to spend one more day with him there, in the little condo with bright colors everywhere, by the pool basking in the sun and sipping the best Pina Colada's in the world.


What is your favorite Bible verse?
Verse? I don't think I can pick just one verse! I love to read Psalm 139, so maybe the first verse could be considered a favorite. 'O LORD, you have searched me and you know me.' But that whole Psalm just makes me feel so ... loved - truly known and truly loved!
What is your favorite Etsy item listing to feature?
I am really just loving to make my little mini quilts, and so right now my favorite item is the Love Quote wall hanging.
URLs to where else we can find you on the internet (Facebook fan page, Twitter, your own dot.com, your blog, etc)
Twitter:
http://twitter.com/HonorCrowned

Facebook:
http://www.facebook.com/pages/Honor-Crowned-Crafts/261331014378
Flickr:
http://www.flickr.com/people/expectfaith
The winner from Anastasia's drawing last week is... (drum roll please...) shopgirl!
Congratulations! Anastasia will be in contact with you for more details.