Welcome to our Wednesday featured artist post (a day late.) Please comment afterwards to let these great artists know that you took the time to read their interview.
Who runs this shop?
James
Johnson and
Carole
Isenhart
What is your shop name?
Indigo Turtle Art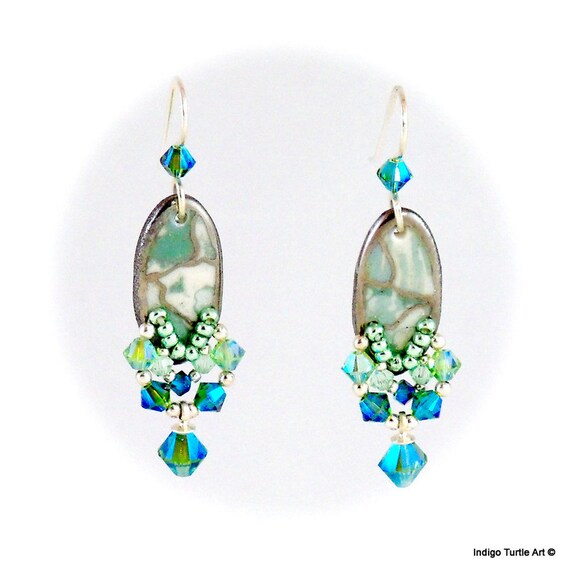 Do you have any special offers or giveaways for us? 10% discount for all CAST team members, no minimum purchase, with code CASTTEAMBLOG. Code will be valid through May 7, 2014
Tell us about yourselves: I have been a full time ceramic artisan for over 25 years. In 2007, I came to the realization that the most important things in life are not THINGS. I downsized my studio and my lifestyle and moved from Minneapolis, Minnesota to rural Fulton, Illinois to find a slower paced life, be more centrally located to my market area and to meet
Carole
, though I didn't know it at the time. Traditionally, I've sold my porcelain jewelry & decorative ceramics at several Renaissance Festivals and numerous art fairs through out the mid-west. With my marriage to
Carole
in June 2012, her computer skills allowed our marketing to go online. She handles our social media, customer relations and e-commerce through Etsy.
Only God could have arranged the way
Carole
& I met... traveling a combined total of nearly 1000 miles, to the middle of a cornfield, in the middle of the country, in the middle of our lives... to connect two hearts & souls...
How did you get your start on Etsy? Ten days after our wedding, I left for my first summer show of the year. After experiencing life as an art show widow during next 23 weeks,
Carole
decided to open an Etsy shop. Our hope is for online sales to replace some of the art shows, so I can spend more time at home with
Carole
, doing what I love... creating beautiful unique works of art.
How did you choose your shop name? It is the same as my business name. I believe that slow & steady wins the race; like the turtle I have always valued quality over speed. Each item is individually hand crafted from start to finish; it is my desire that my customers will feel the love & attention that goes into each piece when they wear it. Indigo represents the night sky that I love to camp under.
What does a typical day look like for you? When I'm home during the week my day starts with 15 minutes of prayer and meditation, then breakfast followed by a 20 mile bicycle ride to the local YWCA for a yoga class. Lunch follows the ride home, then it is time in the studio creating jewelry, applying to shows or paperwork, the day ends around
with another 15 minutes of prayer and meditation.
When it is show time, beginning & ending with food and meditation is the only aspect that stays the same. After an early wake up call, meditation and breakfast are followed by packing the final items into my large panel van. After a 2 to 8 hour drive, I unpack a mountain of items from the van and set up the art show tent, for outdoor shows. The next step for all the shows is building the display area with wall panels and shelving and finally setting out the jewelry and larger decorative items. Set up takes 6 to 8 hours depending on how close I can park to my booth spot & whether or not the tent is set up.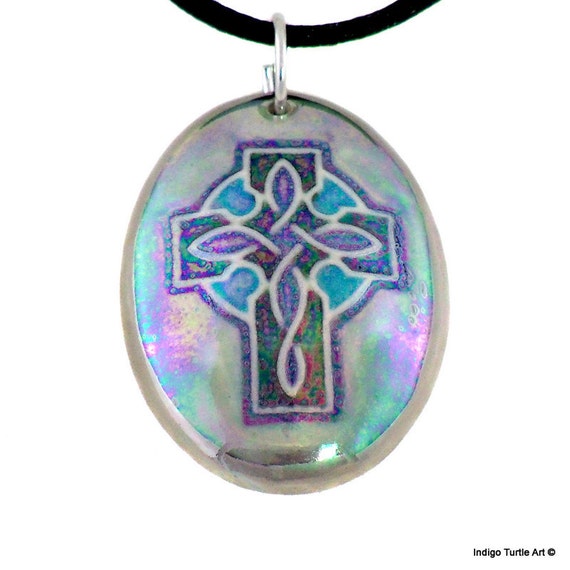 The following 2 to 5 days are 8 to 12 hour sales days where my time is spent interacting with old friends & meeting new ones, making custom length cords for my pendants and restocking. The last sales day is followed by 4 to 6 hours tearing down, packing the van followed by a 2 to 8 hour drive home. The day after a show is spent in rest, relaxation, time with
Carole
& often a 3 to 4 hour bicycle ride.
Carole
's days are filled with computer work, caring for her father & managing 2 households.
If you could be anywhere in the world for one day, where would it be? Jerusalem. We've heard testimonies from people who have visited the area where Jesus walked & taught, they say that seeing the places we have heard about all our lives really deepened their faith & made the stories real & personal. We think it would be an awesome experience.
What is your favorite Bible verse? 1 Corinthians 13 was the basis for the message at our wedding, if we have to single out one verse from this beautiful passage, it would be verse 4 ~ Love is patient, love is kind. It does not envy, it does not boast, it is not proud.
What is your favorite Etsy item listing to feature?
Carole
's Celtic Cross - This piece was our first collaboration.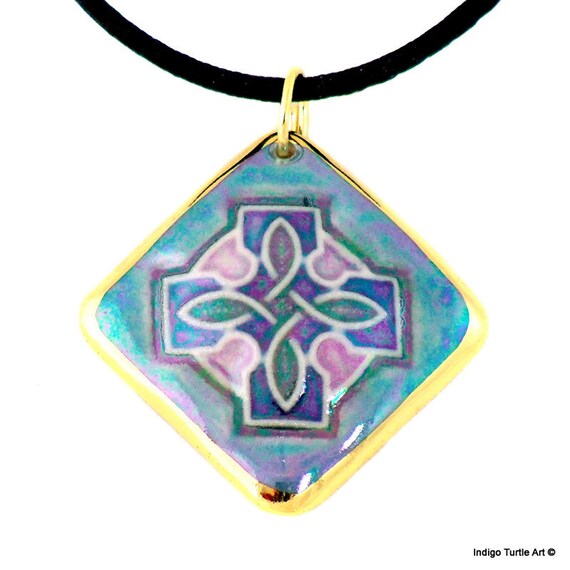 Links to where else we can find you on the internet:
Facebook –
www.facebook.com/IndigoTurtleArt
Twitter –
twitter.com/IndigoTurtleArt
Pinterest –
www.pinterest.com/indigoturtleart/
Thank you Carole and James for agreeing to share your lovely work and creative process with us!