Introducing: Wendell Pohl and Ruth Hawkins (father/daughter team)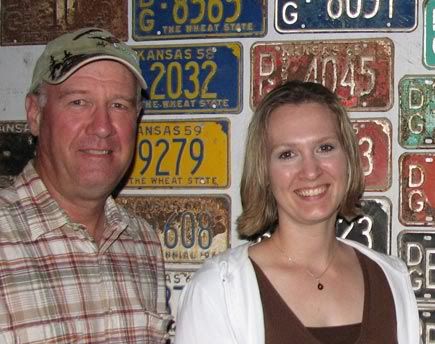 Introduction
We are a father and daughter team. We both live along the Eight Mile Creek west of Baldwin City, Kansas.
Wendell: I live on a farm not very far from where I was raised. My wife and I with our two daughters raised sheep and cattle. My father and I raised swine together. I also worked off the farm for the U.S Postal Service in Lawrence, Ks. I retired in June of '06 after 36 years of service. I stay active with routine farm maintenance and now with 8MileCreekDesigns.
Ruth: After graduating from college with my degree in Illustration, I chose to stay at home and raise a family. I am constantly creating some things for my home, one of my Etsy shops or with my boys. I opened my first Etsy shop, PurpleDesignStudio in 2007. I am also a proud member of the SHETeam.
How did you get your start on Etsy?
8MileCreekDesigns began the day that I (Ruth) decided to help Dad clean out his shed. Because both of us have the desire to create, we sometimes make things just to give it a try. Well, Dad had eight hubcap clocks just hanging on the wall in his shed. I photographed them and 8MileCreekDesigns was born. Now, we have even more hubcaps than before and I know more about cars than I every would have imagined!
What does a typical day look like for you?
Wendell: The weather usually dictates what I do on the farm during the day. If it's wet or cold I'll be working inside my shop.
Ruth: A typical morning is filled with getting the boys ready for a day of school. Getting school started around 8:30am is our goal. Our morning break (for me) is usually filled with Etsy; photographing, checking messages and listing. (Whatever I can fit in that 15-30 minute spot.)
When the short break is over, it is back to school, then lunch. Finishing up K-5 and 3rd grade lessons fill the afternoon. Sometimes, during my 2yr olds nap time in the afternoon I find a little time for being creative. Otherwise, the creative moments wait until the boys are in bed or on the weekends. I also have a large tub of Legos in my studio that provide hours of entertainment for them, and keep them occupied while I work (play).
If you could be anywhere in the world for one day, where would it be?
Wendell: I enjoy the Flint Hills of Kansas, the Rocky Mountains of Colorado, and the Big Horn Mountains of Wyoming but I am content just being at home.
Ruth: Just about any place that has warmth and sunshine with my family.
What is your favorite Bible verse?
Wendell: One would be, Prov. 3: 5-6, Trust in the Lord with all thine heart; and lean not unto thine own understanding. In all thy ways acknowledge him, and he shall direct thy paths.
Ruth: One of my favorite verses is Mark 11:22a-23. A reminder to me that real faith can move mountains! "Have faith in God. For verily I say unto you, That whosever shall say unto this mountain, Be thou removed, and be thou cast into the sea; and shall not doubt in his heart, but shall believe that those things which he saith shall come to pass; he shall have whatsoever he saith." Mark 11:22a-23
What is your favorite Etsy item listing to feature?
URLs to where else we can find you on the internet: